If you have a blog site of your own, you can definitely earn money from blogging. Anyone interested in blogging can now create their own blog at a very low cost. You do not need to learn coding for that. You can easily create your own WordPress site. Anyone can succeed in blogging even if they have basic computer knowledge. But if you want to succeed in blogging, you need at least some writing skills. Proficiency in English is essential.
Making money through blogging is easy these days. If you have a computer and an internet connection, you too can make a lot of money from your blog. As a beginner, it's a good idea to start a blog on Google's Blogger without spending a lot of money. The only cost is to purchase a domain name. Click here to learn more about starting a free blog and earn money from blogging
Advertising
Once you start a blog, ads are the first way to monetize your blog. No matter what website we visit, we see ads on it and when we see or click on those ads, the blogger will get paid. Similarly, if anyone sees or clicks advertisements on your blog, then you will get paid. Even though there are many ad networks providing advertisements, Google AdSense is the best ad network in the world.
Adsense
The first step to Earn Money From Blogging is to apply for Google AdSense. Google AdSense monetizes you by displaying ads on your site. If you apply for Google AdSense soon after you start a blog, you will not be approved. In addition, the content of your blog should be of good quality and useful. As mentioned above, if your blog contains copied content, you will not receive AdSense approval.

Try to apply for AdSense only after you have posted at least 50 articles. If your blog complies with AdSense-defined policies and criteria, you will receive AdSense approval within four to five days. Once you get AdSense you can display ads on your blog and Earn Money From Blogging. That way you can start earning money from your blog. Google's AdSense is one of the most popular, most paid and most trusted AdSense networks in the world today.
Pop Ads
Although you use Google AdSense to monetize your blog, you can use some other ad networks to earn money from blogging on your blog according to AdSense standards. In addition to AdSense, popads are another ad network that helps you generate revenue from your blog. Have you ever noticed that a pop-up window opens when you visit a website and click somewhere on the site? these types of ADS are called pop up ads.
You can increase your blog revenue by using pop ads. Popads is an ad network that gets approval much faster than Google AdSense. Once you have set the popads on your blog then a pop ads will appear if someone clicks on your blog somewhere. This will allow you to increase the revenue from your blog.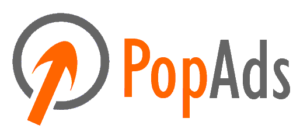 In comparison with Google AdSense, pop ads pay less. But it is a passive income from your blog. Once you set up popads on your blog, then don't bother about it. It will help you to make money from your blog. Pop ads pay less for traffic from countries like India, but if your blog has huge traffic from countries like the US, UK, Australia, and Canada, then you can make huge money. You can create an account in popads.net and get approved in no time
Native Ads
In addition to the other two types of ad networks mentioned above, Native Ad Networks is another type. Native Ads are a great way to earn money from blogging. You can use a native ad network in your blog along with Google Adsense and Popads. This way you will get more income through native ads.
You may have seen native ads on some websites. When you see them, it's hard to understand that they are advertisements. Therefore, people are more likely to click on such ads. Native ads are also available in local languages. You can create native ads in Google Adsense itself. Other major native ad networks are Taboola, Mgid and Outbrain. There are many other native ad networks available, You can sign up on any one of these and start earning money from your blog.
Affiliate Marketing
In addition to AdSense, affiliate marketing is another way to generate revenue from your blog. Affiliate Marketing is the process by which a person purchases a company's product through you and receives a certain amount of commission. The most popular affiliate marketing site in the world is Amazon Affiliate. If you write a product review, you will receive a fixed amount of commission if the product is purchased by someone else through your website.To do this you need to open an account on the Amazon Affiliate Marketing website. There are many other affiliate marketing sites besides Amazon. This is another way to Earn Money From Blogging.
Paid Post
Paid posts are another way you can earn money from your blog. Companies in the field in which you write will approach you for the marketing of their products. Sponsored posts are writing a blog post for money to promote something. For example, If you are a Gadget Reviewer brands will invite you to write about their new product and pay for it. It is a bit difficult to get sponsorship for beginners. But As your blog grows, Brands will approach you and hence you can make an additional income from your blog
Sell Ad Space
You know that advertising is the main source of income for any blog. As you know there are various types of advertisements and some of them are mentioned early in this article. Google AdSense, Pop up ads and native ads are some of them. Apart from these ad networks, you can sell ad space on your blog or website. If you can convince any brand, they will provide ads to show in your blog. It is a bit difficult to get such advertisements for beginners but established bloggers used to earn huge revenue by selling ad space on their blogs.
Sell Your Own Product
This article describes ways to make money by displaying other people's ads on your blog But Why not sell your own product through your website. Yes, this is another type of income source from your blog. Famous bloggers usually sell their own products such as eBooks and online courses. This will help you to earn more money than you expected. Selling a service, Ebooks and other products are very easy and highly profitable. You can receive payments directly to your bank account.