Affiliate marketing is one of the best ways to make a huge income today. You might have heard about affiliate marketing. But if you do not know much about affiliate marketing, then this article will definitely help you. In this article, I want to tell you about my experience in affiliate marketing and how I made Rs. 21,873 from the Amazon Affiliate Program in my first month.
Once you follow the tips here, you too can make a good amount of money through the Amazon Affiliate Program without the hassle. At the beginning, when I started blogging and affiliate marketing, i thought it is like a sea. I did not know how to start and where to start. After doing a lot of research, at last, I found a successful way of affiliate marketing by using Amazon associates.
Unlike regular blog posts, here Iam trying to share my own experiences with you. Since it is my own experience, i wish to write the article in my own words. If you are new to affiliate marketing or blogging. You can also earn a decent income from your blog with affiliate marketing by following the tips i have discovered.
What is Affiliate Marketing
Affiliate marketing is basically referring people to a specific product and taking commissions on the sale. This way we make revenue and the companies will get more sales. Today affiliate marketing is one of the major strategies of marketing. We know Amazon is the world's number one company. Amazon pays millions of dollars every year as commission through Amazon affiliate program. Today affiliate programs are available in all fields such as eCommerce websites, Web Hosting, Domain Name Purchase, Selling Courses etc.
Now most of you think that you can not earn huge money from affiliate marketing and no one will buy products from your link. Right..? But you should believe the fact that, tha major revenue of big bloggers is not from the adsense or any other advertising. It is from affiliate marketing. There is a huge opportunity in affiliate marketing today.
Amazon Affiliate Program
Do you ever think about how Amazon becomes the world's largest E-Commerce company? Affiliate marketing is one of the major strategies of Amazon's business. Amazon affiliate program is one of the highest-paid affiliate programs in the world. You can blindly Believe the Amazon affiliate program without any confusion. They Pay real money and it is the safest way of making money from your blog or YouTube channel.
By reading this much, I believe you got some idea about affiliate marketing and the Amazon affiliate program. The word affiliate marketing is a bit complicated. But the process is very simple, after creating an Amazon associate account, you can find any product you want and you will get the affiliate link. You just wanted to share this affiliate link where ever you want. It may be on your website, throw your YouTube channel, through social media, etc. likewise you will get more link conversions and you too can earn from affiliate marketing.
If someone clicked on your affiliate link and bought products from amazon. You will get paid. Amazon assigned a certain percentage of commission for different product categories. There is an amazing real-time reporting method is available on Amazon Associates website. It helps you to track your earnings and payments.
How to Use Amazon Affiliate Program to Make Money
Anyone can make money from Amazon affiliate program irrespective of age and educational qualification. Amazon Associates website is a global affiliate marketing program owned by Amazon. Anyone who wish to do affiliate Marketing and make money from it can sonsider Amazon affiliate program. Sharing your affiliate link from Amazon associate website is very simple. Amazon affiliate program is most suitable for Bloggers, Vloggers people who own social media pages. It is not a big task to make money from Amazon affiliate program. There is no hard work needed. You only need to share your affiliate link to your readers or followers.
Amazon Affiliate Marketing Through Blog
People who are not familiar with blogs should understand that blog is a website that contains articles on a particular topic. We can make money by serving ads on our blogs. But famous blogs make money from affiliate marketing. They focus on affiliate income than ad revenue. Now you may understand that affiliate marketing can lead to huge income. Whatever your blog's niche, you can do affiliate marketing. For example, If your blog is about 'blogging', then you can do affiliate marketing on hosting, domain and WordPress themes and plugins, etc.
Similarly, tech blogs can make good affiliate income from Amazon associate affiliate program by selling gadgets and accessories from Amazon. Initially, I used to write reviews of gadgets on my blog. But the fact that your blog should get enough traffic to make a decent affiliate income. This will also help you to increase your ad revenue. If you are interested, try to read the article on how to create a blog and earn money by clicking here.
It is very important that the way of placing your affiliate links on your blog posts. The affiliate product you are sharing must be relevant to your blog post. Therefore, product review posts are more likely to generate affiliate revenue. Another thing is, do not place a lot of affiliate links in a post. Once your blog is ranked on Google, you may see a huge increase in your affiliate income.
Amazon Affiliate Marketing Through YouTube
Affiliate marketing can be done not only through blogs/websites but also through the YouTube channel. Today, starting a YouTube channel becomes a trend among youngsters. As such, it is important for you to know that affiliate income is one of the most lucrative sources of income through your YouTube channel. It is possible to earn good revenue through the Amazon affiliate along with the ad revenue from your YouTube channel.
If you are a tech YouTuber, You can sell electronic gadgets from Amazon and earn commissions on them. Most YouTubers today make huge revenue through this kind of Amazon affiliate marketing. Even if you pay for a gadget and review it on YouTube, you will get ten times more money back through affiliate marketing. Not only tech YouTubers, If you are a beauty vlogger, then you also can do affiliate marketing through Amazon Associates.
How I Made Rs.21,873 From Amazon Affiliate in a Month
As I have mentioned above, here I am sharing my own experience in affiliate marketing. I make money from multiple affiliate marketing programs but Amazon is my favourite because my first earnings was from Amazon affiliate program. Now let me tell you how I started affiliate marketing and some tips I have experimented. Experiments are always my companion in blogging and digital marketing.
In the beginning, I have started affiliate marketing through my social media friends. I used to share my affiliate links through my social media accounts. Later I became interested in blogging and I have started my own blog. Then I realized there is a huge opportunity to make a huge income by incorporating blogging and affiliate marketing. Visit my blog for reference. Since my primary aim is to make money from affiliate marketing, I used to write Technology articles about gadgets and I have shared my Amazon affiliate link on blog posts. as a result, I saw a huge difference in my affiliate earnings. Hence I understood that I am on the right track.
Similarly, I have started a Tech-based YouTube channel and started driving traffic to my affiliate links. You may know that blogs and YouTube channels get monetized with Google AdSense. But as I mentioned above, Ad revenue is my second choice. Even though you own a blog or YouTube channel, it is important to create good quality content. Also, share appropriate product links mentioned in your content. If your content ranked on Google or YouTube, Definitely you will get huge revenue from your affiliate links.
As a content creator and blogger, I own social media pages as well as a telegram channel. Again I have experimented with some affiliate tricks through my social media pages. If you have such social media pages or telegram channels, You too can make money from there. In fact, it is a little bit difficult to convert your affiliate links to sales through social media. So mostly I use my blog and YouTube Channel to incorporate my affiliate links. But you can effectively use social media to drive traffic to your content.
Proof
As promised on the title, here I am sharing my one month earnings from amazon affiliate marketing program. You can clearly understand the graph below. I earned Rs 21,873 in a month from Amazon affiliate program. This Screen shot is captured from my Amazon Associate profile. As seen they provide a good reporting facility.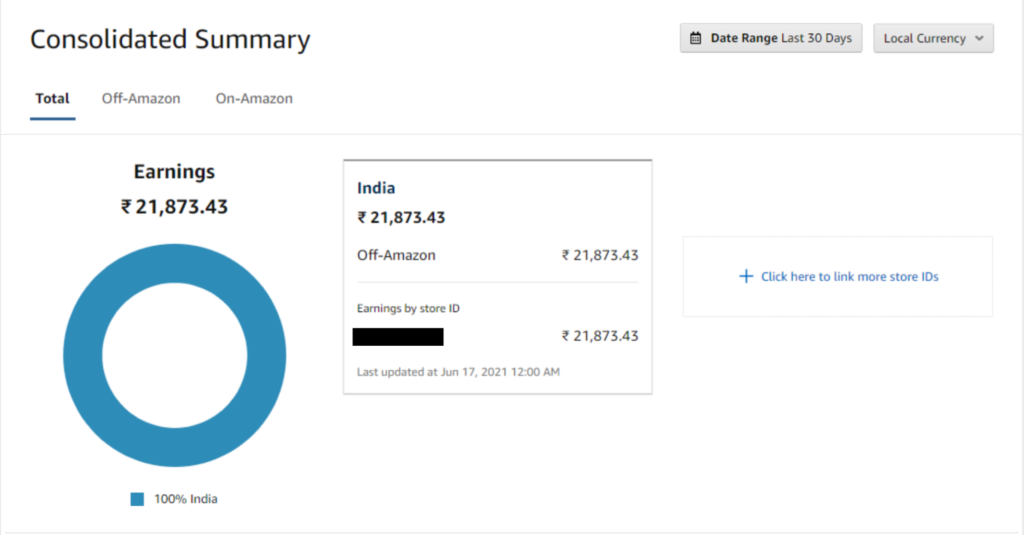 How to Start Amazon Affiliate Marketing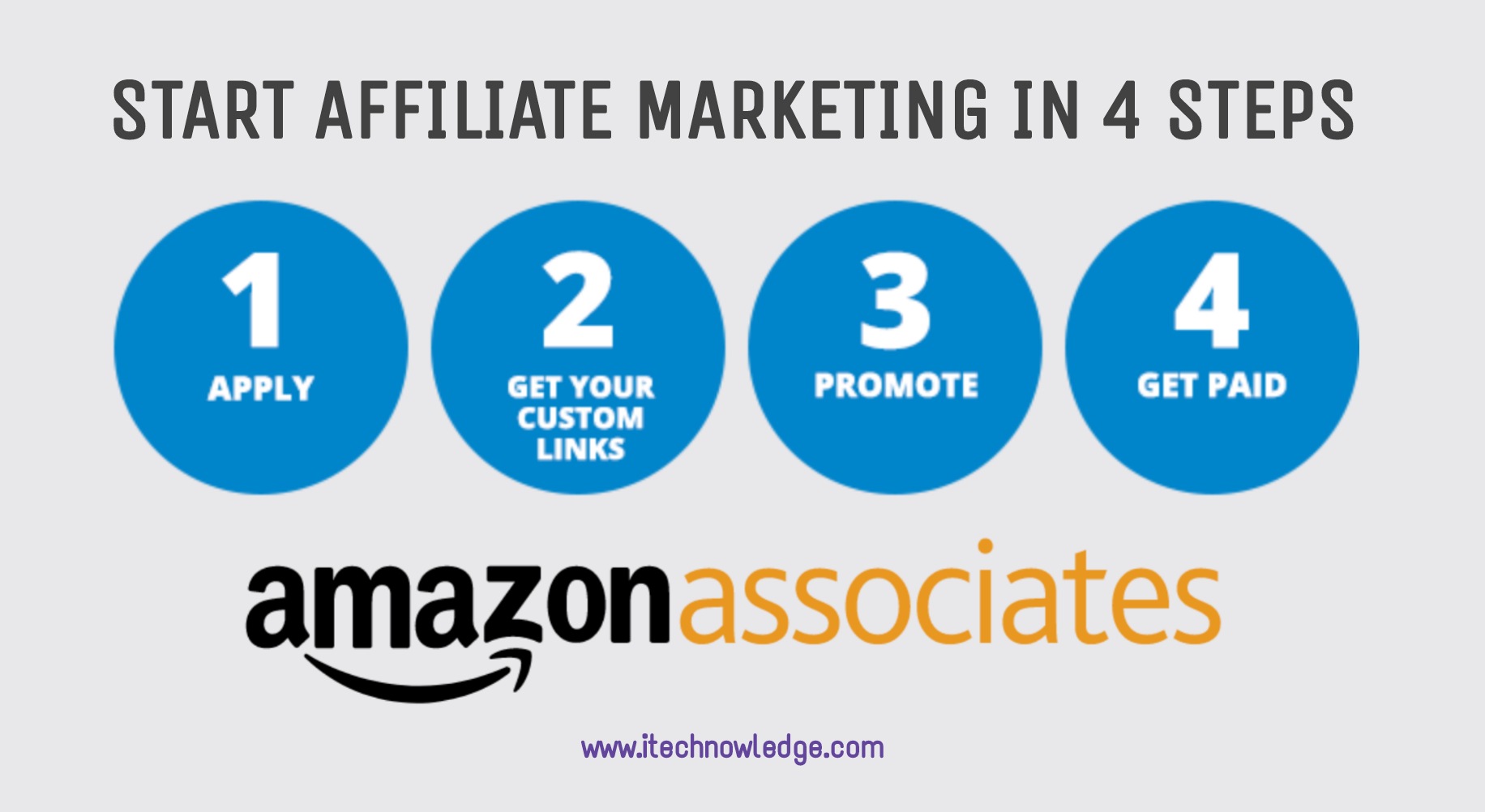 Steps to Create Amazon Associate Account
Now you realize that Amazon affiliate marketing is very easy to do, If you want to do that you need to apply for an account on the Amazon Associate website. After signing up on Amazon Associates Website, you can create your affiliate link and earn a commission. If you want to do that you need to apply for an account on the Amazon Associate website. Your Amazon Affiliate link may look like https://amzn.to/2SLPxxO
Step 1 : Sign Up on Amazon Associates Website
Step 2 : Apply For Affiliate Account
Step 3 : After Approval, Create your affiliate links it may look like https://affiliate-program.amazon.in/
Step 4 : Share your amazon affiliate link through the above-mentioned ways in this article.
Step 5 : Get paid for your affiliate link conversions.
Amazon Affiliate Commission
I hope you have an understanding of Amazon affiliate marketing and how to make money with it. In addition to that, there are a few things you need to understand before starting your affiliate marketing journey. You may be thinking about how much you can earn through the Amazon Affiliate Program. There is some fixed percentage of commission for different product categories. For example, if you share an affiliate link for Kitchen Appliances from Amazon, you get a 9% commission. likewise, if you share an affiliate link for Baby products, you get a 6% commission. So you should be aware of how much Amazon affiliate pay for various product categories.
Product Category
Fixed Advertising Rates
Kitchen Appliances | Kitchen & Housewares
9%
Furniture | Outdoors | DIY & Tools
9%
Grocery | Pantry
8%
Home | Baby
6%
Automotive | Lawn & Garden | Sports
6%
Televisions | Computers |Consumer Electronics & Accessories
(excl. Data Storage Devices)
5%
Large Appliances | Movies | Music | Software | Video Games
5%
Books | Office Products | Industrial & Scientific Products | Pet Products | Toys
5%
Apparel & Accessories | Luggage & Bags | Watches | Shoes
5%
Health, Beauty & Personal care | Personal Care Appliances
5%
Jewellery (Excluding silver & Gold coins) | Gourmet | Kindle eBooks
5%
Mobile Accessories | Musical Instruments
4%
Bicycles & Heavy Gym Equipment | Tyres & Rims
2.5%
Data Storage Devices
2%
Mobile Phones
1%
Gold & Silver Coins
0.2%
All Other Categories
5%
Amazon Affiliate Commission
Conclusion
In my own experience, Amazon Affiliate Program is an easy and legit way to earn a decent income. If you are a blogger or vlogger, then Affiliate marketing can help you to double your revenue. Today affiliate marketing is a major income source for people like us and a major marketing strategy for companies. This is the only way to earn money without any hard work.