If you are searching tips to increase YouTube views and subscribers count, Then you can grow your YouTube channel by following the proven tips mentioned in this article. Every day more than 5 billion videos are watched on YouTube. Advertisement is the major revenue source of YouTube and people who upload videos on YouTube. Making money from YouTube channel is not a big task. It doesn't need any technical skills. Anyone with basic computer knowledge can run a YouTube channel successfully.
This article will definitely help you to increase YouTube views if you are a beginner on YouTube or if you planning to start a YouTube channel. As mentioned above, you do not need any qualifications to run a YouTube channel successfully. But you need to have the mindset to work hard. If you try to make videos that are genuinely entertaining, you too can succeed on YouTube very quickly. If you are planning to start a YouTube channel and earn money, Read this article.
What are the Criteria for YouTube Monetization
Most people today know that you can make money from YouTube. But in order to get paid your channel has to fulfill certain conditions. A few years ago it was very easy to get monetized on a YouTube channel. A total of 10,000 video views were enough for a channel to get monetization that time. But today it is difficult to get monetization for a YouTube channel. There are two criteria you need to complete to enable monetization on your YouTube channel today. Your YouTube channel should meet both the criteria given below.
4000 Hours Of Watch Time – Now one of the criteria you need to complete to get monetization for your YouTube channel is to get 4000 hours watch time. We know that 4,000 hours of Watch Time is equal to 240,000 minutes.
1000 Subscribers – You should have 1000 subscribers in order to enable monetization on your channel.
1. Keyword On Title
The title of the video is an important factor when you upload a video on YouTube. Today, hundreds of videos on the same topic are available on YouTube. Then if someone searches for what they want on YouTube, Countless videos will be shown. So your video has to compete with hundreds of other videos. So SEO is very important when it comes to competing. Yes SEO also applies to YouTube videos.
The title of the video is one of the most important thing in YouTube SEO. Because people search YouTube for things related to the video they want. If your video is related to the word they searched for then YouTube will show your video in search results. So if you want your videos to be listed in search results you need to give your videos a good titles. We can call this SEO Keyword, It will help you to increase YouTube views and Subscribers.
There are a few things to keep in mind when giving a good title to your videos. First one is keyword. When giving your video a suitable title you should try to add keywords related to the video. Make sure it is a keyword that people are likely to search for. For example, if your video is about Go Pro Hero 9, then you should add the keyword Go Pro Hero 9 and also add some other words like Specifications, Review, Camera Quality etc.
You can add up to 100 characters to the title, so try to utilize entire space, So that you can add more keywords to the title and it will help you to rank your video on YouTube search results. Another important thing is the language of your video's title. Yes, most people search on YouTube in English. Even if they want a video in a regional language, they search some English words. So try to write your video's title in English.
2. Description
When you upload a video to YouTube, the next thing to do after the title of the video is to give a good description. We have already told you what to look for when writing the title of a video. The description of the video is similar. When playing a video on YouTube, you can see the description box below its title. Clicking on the arrow mark next to the title of the video will open the description box. Most people today use video description to share links. But this is not the proper use of it. You should write a few lines about your video.
Did you read above that you need to add keywords when writing the title of the video? Likewise when creating a description for your video do not forget to include the keywords related to the video in the description. The description should be of the content of the video. Like "what this video is about" should be written in very few words. You can see the first few lines of the video description as soon as the videos are displayed on the search results page on YouTube. Therefore, the description should be written in such a way that it can be easily understood.
Copying is something that should not be done in video description. Do not copy text from websites such as Wikipedia into your video description. It is best to write on your own. There is nothing wrong with posting links after first writing about the video. It is also a good idea to describe your contact details, such as email id.
3. Video Thumbnail
The next important element after the title is the thumbnail. Thumbnail is a small image that represents the entire video. So you should be careful while creating a thumbnail for your video. If anyone sees the thumbnail of your video they should be prompted to click on your video. Even if your video is very good, if the thumbnail is not attractive, your video will have fewer views. Thumbnail Image should contain an important part of your video. You can also add text in the thumbnail image.
There is no doubt that thumbnail will help increase YouTube views but Do not try to build clickbaits. clickbaits is an attempt to increase video views by providing a thumbnail that is unrelated to the content of the video. Doing so will affect your YouTube channel if it is reported. So try to avoid clickbaits.
Today no editing skill is required to make a good video thumbnail. Anyone can create great thumbnails with your smartphone. There are many photo editing apps available for Android and iOS. You can make use of these apps to create your video's thumbnail. My suggestion is to use Picsart Photo editor for android as well as for iOS
4. Add Proper Tags
Video tags are the main part of youtube SEO, As we discussed above, keywords related to the video should be given in the video tags section. You must not give tags that have nothing to do with the video you uploaded. Do not assume that YouTube will not understand such scams you do. For example, if you uploaded a cake baking video, try to enter only the tags associated with it. Keywords that people are likely to search for should be given as video tags. Only then will your video rank on the YouTube search page. This will definitely help you to increase YouTube views.
5. Add Channel Keywords
Next is the channel keywords. YouTube Studio has the option to set keywords for your channel. This is something that most people ignore. Channel keywords are keywords that belong to the category in which your channel belongs. We have seen above how to give proper tags for a YouTube video. Channel keywords are a feature similar to assigning tags to videos. As mentioned above, words that people are likely to search for should be set as the channel keyword.
6. Upload Long Videos
Have you ever noticed the video duration of famous vloggers? Yes, it's a trick that is only known by experienced YouTubers, If you are a beginner, try to increase the duration of your video and you can see the difference. It is because of the watch time. If you upload small videos, your channel will gain a small amount of watch time, Watch time is an important factor for those who are waiting for AdSense approval as well as monetized channels. If you are a beginner, long videos will help you to attain 4,000 hours of watch time very fast and will help to increase your YouTube views as a result.
For monetized channels, Long duration videos helps to increase their Ad revenue because you can place more than one ads on videos longer than 9 minutes. Long duration videos will help to get more engagement on your channel and YouTube will promote such videos. As you can see long videos have millions of views. So keep this trick in mind and implement in your next video.
7. Upload Frequently
Video upload frequency is very important in the successful journey of a YouTuber. No matter you are a beginner or a pro, you should work hard and upload videos frequently to increase your YouTube views as well as earnings. Famous and successful YouTubers upload videos every day because it will increase your channel's reach and as a result, you will get more video views, Subscribers, and more Adsense revenue. YouTube is a company and they want more engagement. So they promote channels with more views.
8. Share On Social Media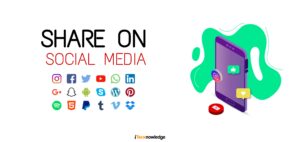 We know, right now social media is the only medium to spread something very fast and make it viral. The same strategy can be adopted to increase YouTube views and to increase revenue. If you are a beginner, it is very important to get some instant views after publishing the video. The only way is to share on social media. and share with your friends and family.
Try to create an Fb page for your YouTube channel and it will help you in the long run. Established YouTubers will share their video on Facebook and earn a lot of money as same as from YouTube. You can earn a huge income from a Facebook page. Read this article to know more about Facebook Page monetization.
Tips To Grow YouTube Channel
Unique Style: Follow a unique style in all your videos. Create an impressive intro for the channel. Also set a unique style of addressing the viewers. For example, some people start the video by hai guys, hey folks, whatsupp people.., welcome to my channel, etc.
Keep Quality: As said above, keep good quality in everything including the content, video, audio. Then only people will subscribe to your channel. Youtube may not promote low-quality videos.
Simple Explanation: Plan and make a script on what to talk about in your video. Make it simple otherwise viewers may skip your video.
Reveal your face:
As a beginner, tell your viewers to subscribe your channel. Telling this in all your videos will increase the chance of getting subscribed.